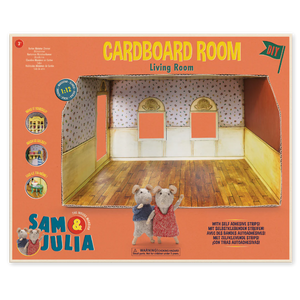 The Mouse Mansion | Cardboard Living Room
Regular price $16.00 Sale
This lovely miniature room is made of cardboard and printed on all sides with the characteristic wallpapers and floors of The Mouse Mansion. The box is easy to assemble thanks to the handy flaps with double-sided tape. Contents: one cardboard room with double-sided tape and manual. Furniture and miniatures are available separately. Or create your own items from scrap materials with the help of the Mouse Mansion video tutorials.
Important! Fold all flaps in both directions before sticking together te prevent tension.
RECOMMENDED AGE: 3Y+
FINISHED SIZE: 13"x 8" x 9.5"
SCALE: 1:12 

MATERIALS : FSC Cardboard
---